Navia NL3333 new navigation receiver is released
14 / 09 / 2015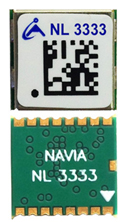 The new GLONASS module NAVIA NL3333 was released recently by the EuroMobile Wireless Solutions Company. The module is made in an original form-factor 8.7 х 9.5 mm on the base of MediaTek MT3333 chipset. A manufacture has achieved reduced dimensions, as well as significant reduction in a power consumption compared with previous modules NAVIA. In all such significant improvements, according to the manufacturer, the price remains at an accessible level.
Compared with other modules Navia NL3333 have applied a more flexible power scheme: an active antenna power supply is displayed on the additional output. It allow custimer to save space on the board using a passive antenna or install the necessary RF isolation (inductance) when an active antenna is necessary.
The receiver uses all GNSS systems range: GPS, GLONASS, Galileo, QZSS and BeiDou in future. NL3333 has a high sensitivity, power consumption and first fixation fast time (TTFF). The module includes a noise reduction 12-step system. The module power range is 2.8 – 4.2 V, that can successfully use in projects powered Li-Pol batteries. Module coonection is via ART, the data are issued by NMEA protocol.
The "EuroMobile Wireless Solutions" company traditionally takes part in the "Navitech" exhibition and will show you their latest developments at the next exhibition, which in 2016 will be held from May 10-13at the Expocentre Fairgrounds during the week of Informational innovations. Learn more about the "EuroMobile Wireless Solutions"  NL3333 from NAVIA at the booth №81В40.
Источник: http://www.euromobile.ru/novosti
---