On 1 June 2011 Pavilion No. 7 of Expocentre Fairgrounds hosted the opening ceremony of the Navitech-Expo'2011 International Exhibition.
01 / 06 / 2011
The exhibition is running concurrently with the 5th International Satellite Navigation Forum as part of the Navigation Systems, Technologies and Services International Congress and Exhibition.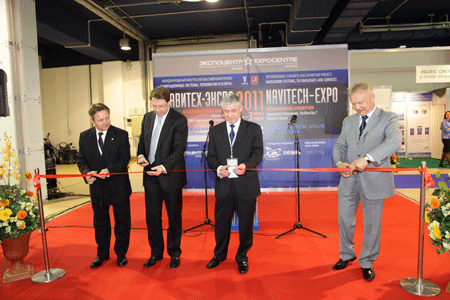 Navitech-Expo'2011 is organized by Expocentre in partnership with the Professional Conferences Company. Congratulating the participants on the opening of the exhibition and the forum, Deputy Director General of Expocentre Fairgrounds Mikhail Tolkachyov thanked the Russian Chamber of Commerce and Industry, the Moscow City Government, the GLONASS/GNSS Forum, OAO Navigation and Inforamtion Systems and the official sponsor of the event NAVTEQ Company for the support of the project.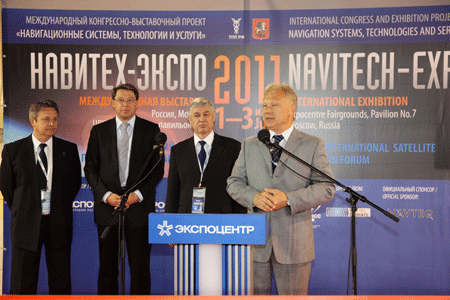 Navitech-Expo'2011 is showcasing products of over 100 companies from Ireland, China, Lithuania, Belarus, Russia, the USA, Thaiwan, the Ukraine and Czechia.
Speaking at the opening ceremny, Deputy Head on the Russian Federal Space Agency Anatoly Shilov remarked with satisfaction that the companies showing their equipment, receivers, devices, terminals, chips etc. at the exhibition were in no doubt about the prospects of satellite navigation. He was positive that the advantages of the GLONASS system would soon become obvious and the technologies displayed at the exhibition would bring considerable return on investments. Expressing gratitude to the participants in the show, Mr Shilov called for businessmen to work more actively in this promising and dynamic sector of economy.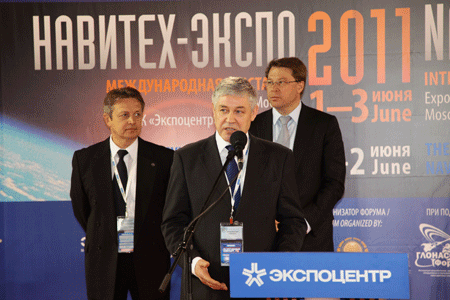 On behalf of the business community, Director General of OAO Navigation and Information Systems Alexandr Gurko congratulated the participants on the beginning of the forum and Navitech-Expo'2011. Pointing out to a dynamic growth of the exhibition, which is generating attendance and leading the industry, he was positive that Navitech-Expo would become a launchpad for the GLONASS technology to spread across the globe. 'Many countries are present at the exhibition today. We hope that next year the exhibition will be several times larger and we will be welcoming hundreds of exhibitors from all the countries of the world', said Mr Gurko.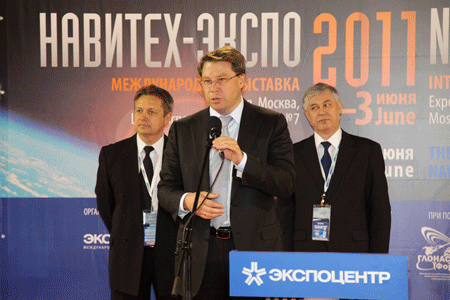 Nevitech-Expo'2011 is located in Pavilion No. 7 of Expocentre Fairgrounds. The exhibition is open from 10.00 to 18.00 on 1 and 2 June, and from 10.00 to 16.00 on 3 June.
http://www.navitech-expo.ru/en/
---